End of Year Calendar Reminders: May 31st - No School (Memorial Day) June 3rd - Last Student Day June 4th - Teacher Records Day June 6th - Graduation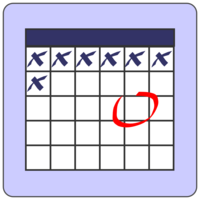 COVID Vaccine Information for Teens, ages 12-17!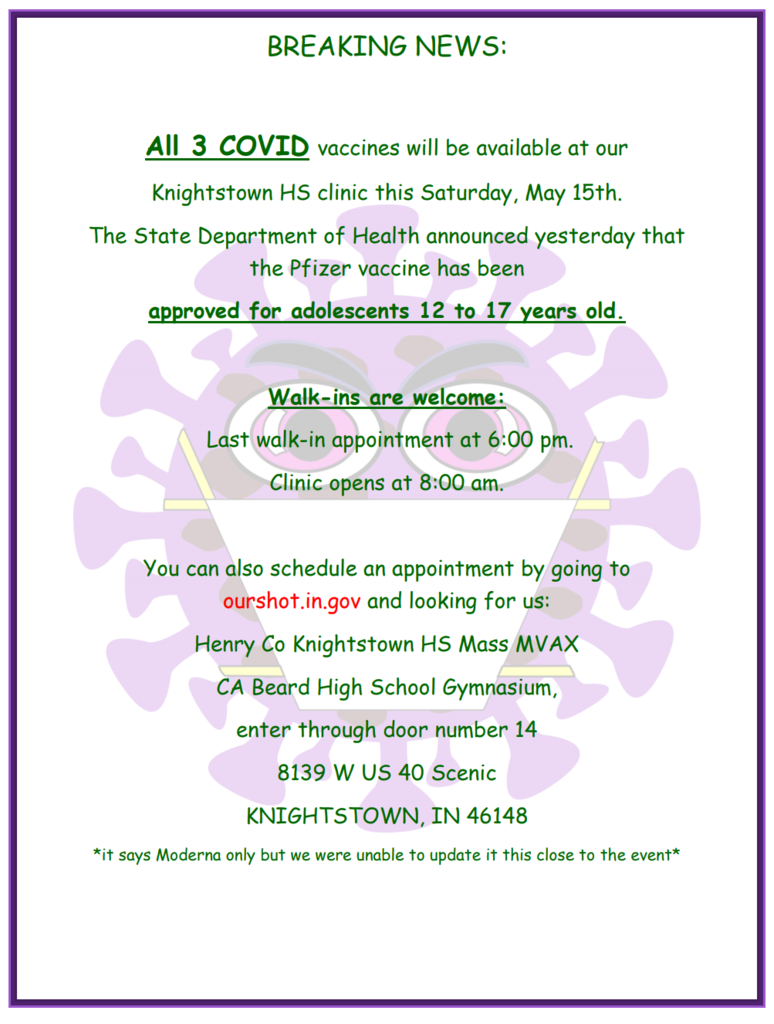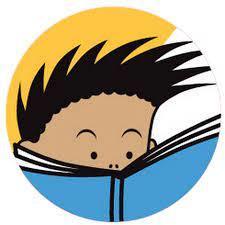 School Vaccine Clinic - May 15th!

Virtual Family STEM Month!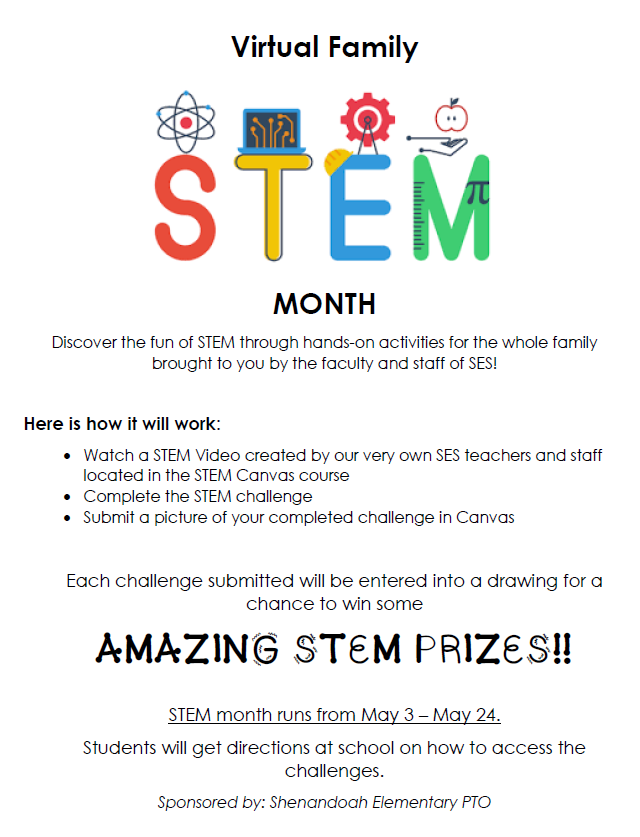 April 21, 2021 Dear Seniors, The Class of 2021's graduation will be held on Sunday, June 6, 2021 at 2:00 PM. Commencement will be held in the Shenandoah High School gymnasium. Due to the Covid-19 Pandemic we will be limiting the number of guests each Senior may have at graduation. Currently, we will be allowing each graduating Senior six(6) tickets for guests at commencement. Tickets will be distributed to you at commencement practice on Thursday, June 3, 2021. Additionally, we are asking that all guests sit in family pods, wear masks, and practice social distancing. Students will be seated on the floor of the gymnasium and we will be requiring all parents and guests to be seated in the east and west bleachers. We will have an area set aside for guests with disabilities that cannot otherwise utilize seating in the bleachers. We will continue to monitor Indiana and Henry County's Covid-19 status and all restrictions to determine if the total number of guests per student may be increased as we get closer to June 6, 2021. Should you have any questions regarding graduation, please contact Mrs. Gwinn, Mrs. Baker, or me. Respectfully, Gregory W. Allen, Principal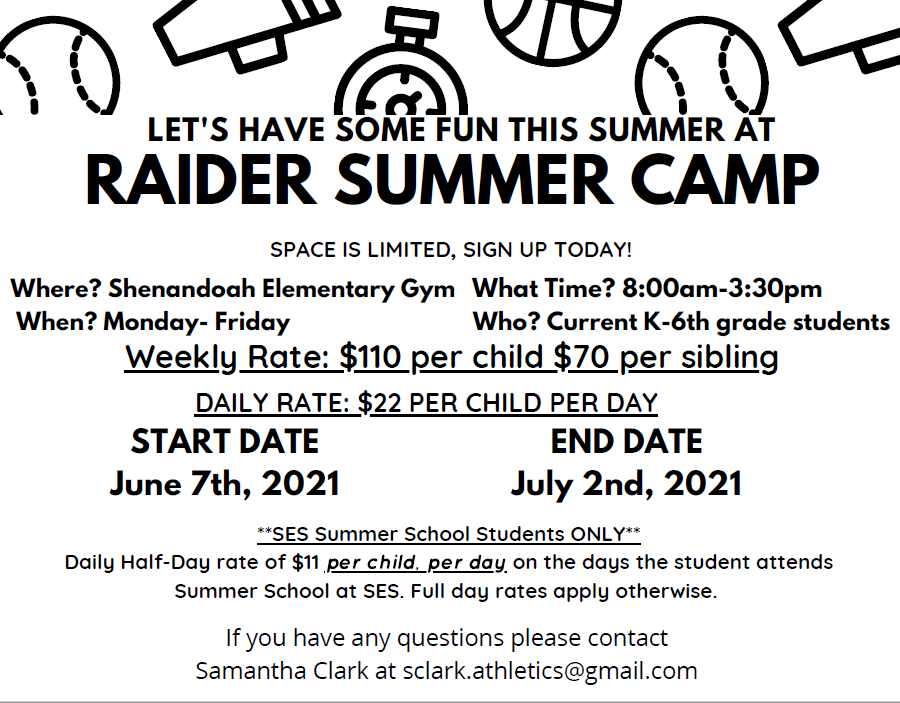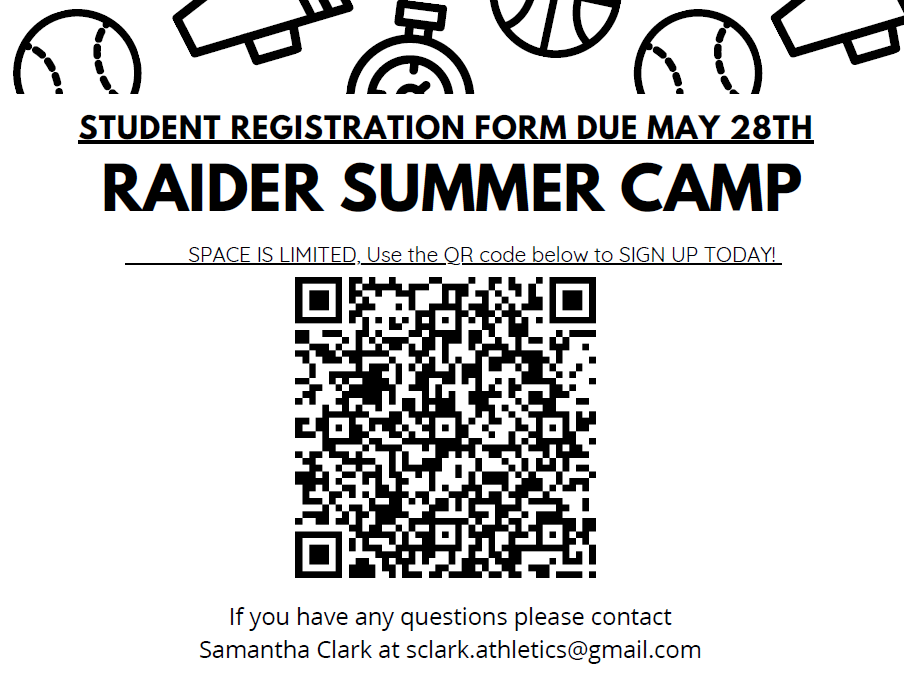 Mr. Gast will be hosting a Washington DC Trip meeting next Wednesday, March 17th at 6 PM in the SMS gym. If you are planning to go on this trip, then please plan on being in attendance.

Information from the Henry County Department of Health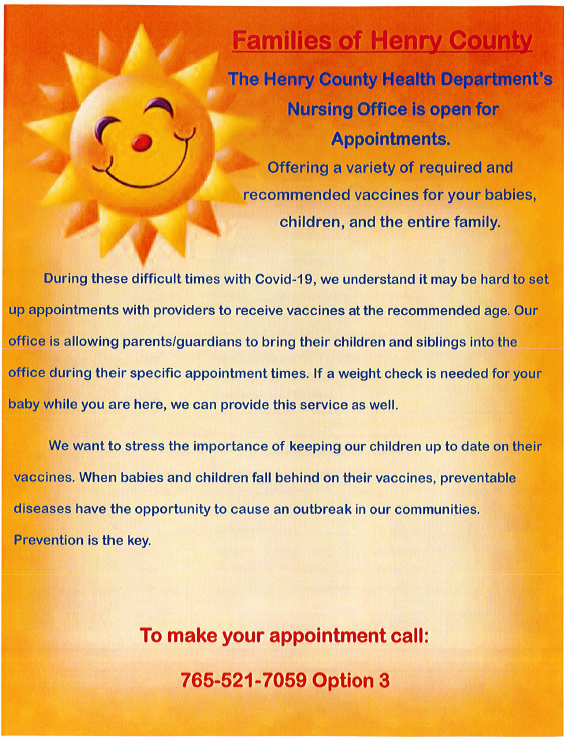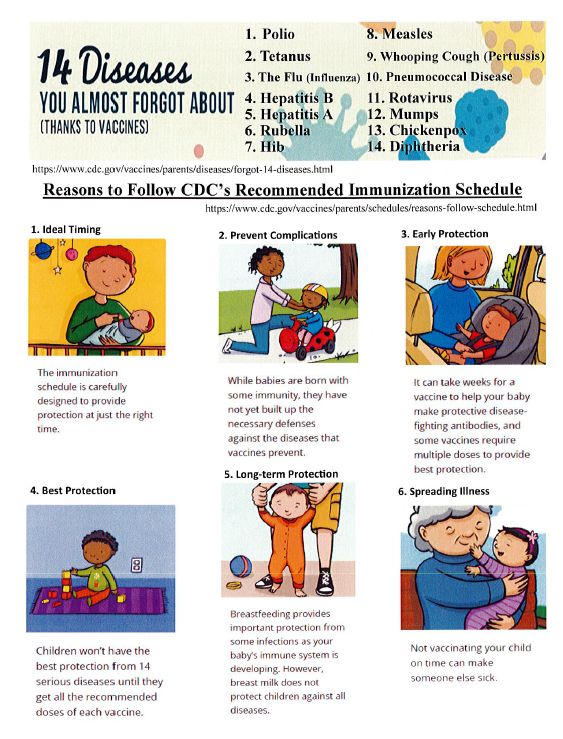 SHS Raider Pride Signs for Sale! Signs are $15ea or 2 for $25. All proceeds will be used to host a safe and fun post prom. Contact Deeann Conner or Lesley Patterson via PM if interested.


If you are interested in applying for our open Latchkey Supervisor position, the application can now be filled out and submitted online. Check it out here -
https://bit.ly/3q8FX2C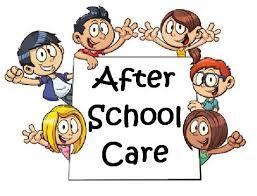 REMINDER: When we have a two-hour delay, we will dismiss at the following times: Elementary - 2:45 PM Middle and High School - 2:55 PM

SSC Two (2) Hour Delay on Friday, February 19, 2021. Everyone please enjoy a nice evening and travel safely, Thank you, Ron Green

SSC Closed Thursday, February 18, 2021 with an eLearning Day. Everyone have a great day and be safe! Thank you, Ron Green

Good Afternoon! Thursday, February 18th will be a Gold day for SHS. We will also be Gold for Friday, February 19th. Charge your computers and finish your E Learning! Everyone have a great day and stay safe. Mr. Allen

SSC Closed on Wednesday, February 17, 2021. Students and teachers will use an eLearning Day. Everyone stay safe! Thank you, Ron Green

SSC will be CLOSED on Tuesday, February 16, 2021. Students and teachers will use an eLearning day. Everyone have a nice evening and stay safe. Thank you, Ron Green

Reminder: No School Monday, February 15, 2021 because a make-up is not necessary. Everyone please enjoy your three day weekend and remember to continue to follow all COVID-19 Safety Protocols. Thank you, Ron Green

TWO (2) HOUR DELAY for SSC on Friday, February 12 , 2021. Everyone have a nice evening and be safe in your travels . Respectfully, Ron Green

SSC Closed Thursday, February 11, 2021. SSC will conduct an eLearning Day. Everyone have a great day and be safe. Thank you, Ron Green