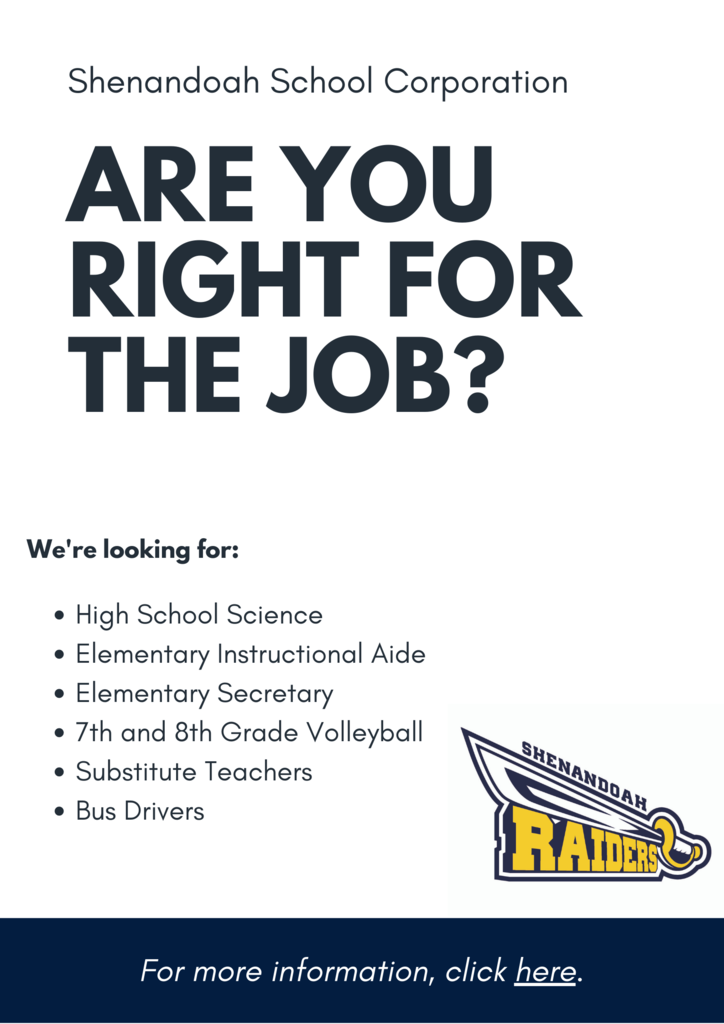 The Indiana Department of Education requires all schools to submit a plan to return to in-person instruction and gather public comment. The attached plan is our initial draft, which as CDC Guidelines are updated, will also be updated. Again, this plan will likely change as guidelines are updated. The plan can be found here -
https://5il.co/ufhd

The American Lung Association says, "E-cigarettes are not safe and can cause irreversible lung damage. No one should use e-cigarettes." Clear enough? ☠️☠️☠️ If you don't vape, don't start! Share this message and help us #VanishVaping.
https://dontpuffthisstuff.com/social-22

Updated Times for Today (6/3/2021): Senior Breakfast – 9:30 AM 8th Grade Awards – 10:00 AM 5th Grade Graduation – 10:30 AM Elementary Dismissal – 2:45 PM Middle/High School Dismissal – 2:55 PM The middle school field day will proceed as normal, weather permitting.

Seniors: With our 2 hour delay please be here at 9:30 AM. We will still have breakfast for you. See you at 9:30 AM! Mr. Allen

2 HR DELAY FOR SSC ON THURSDAY, JUNE 3, 2021. THANK YOU!

Henry County Department of Health Vaccine Clinic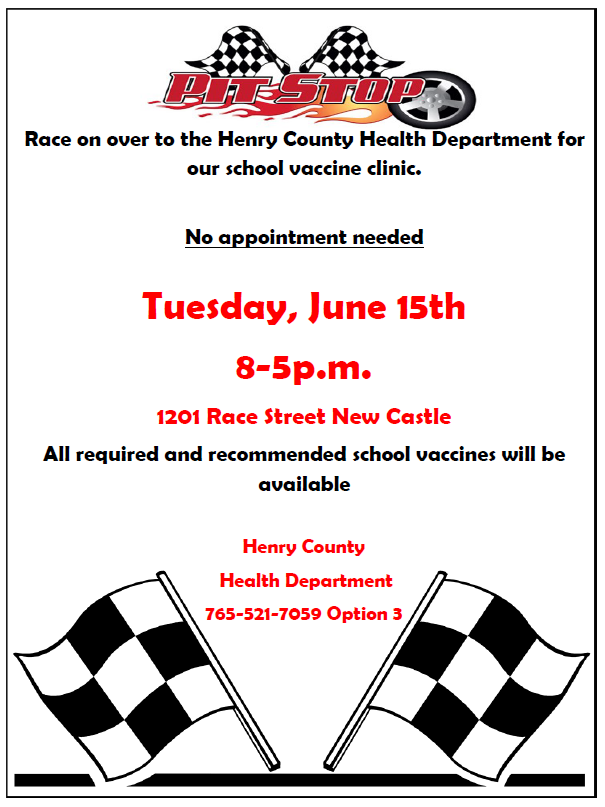 You probably already knew vaping damages your lungs. But did you know if you vape and get COVID-19, your weakened lungs will have to work even harder … your organs will be more stressed … and they're more susceptible to failure? Yikes. #NotWorthIt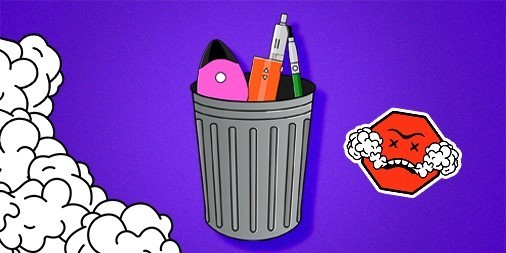 Resolution by the Board of School Trustees for extra duties caused by the COVID-19 Pandemic.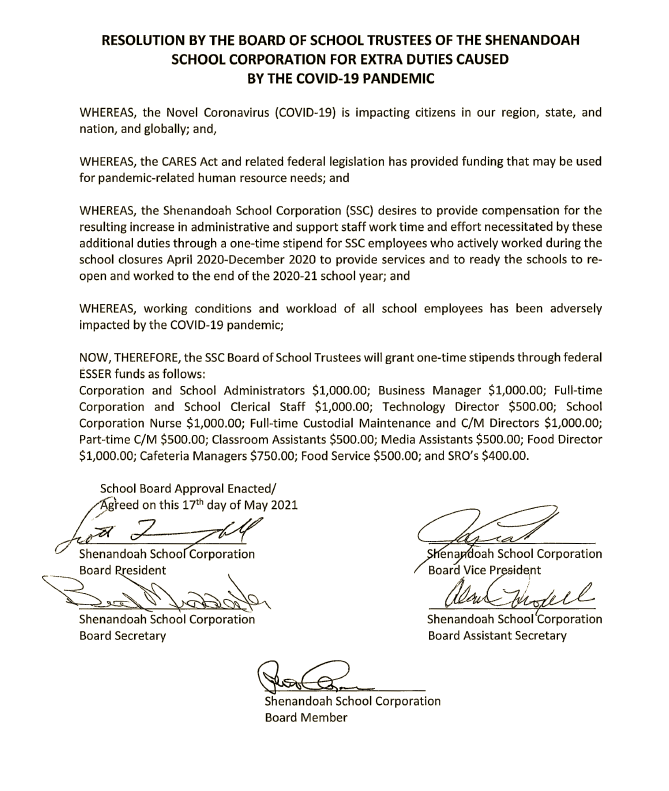 Did you know if you vape, you can get the same chronic lung diseases that cigarette smokers get, like asthma, bronchitis and emphysema? Sounds fun! Don't fall for the fog. Share this and encourage others to be #NoCloudProud. #BeAVapeQuitter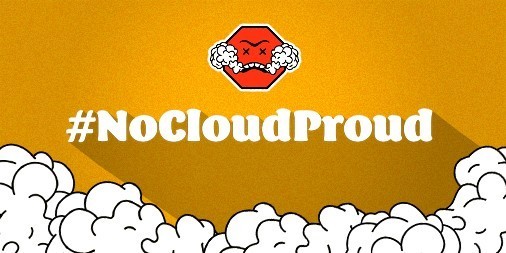 End of Year Calendar Reminders: May 31st - No School (Memorial Day) June 3rd - Last Student Day June 4th - Teacher Records Day June 6th - Graduation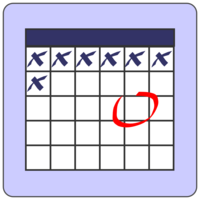 COVID Vaccine Information for Teens, ages 12-17!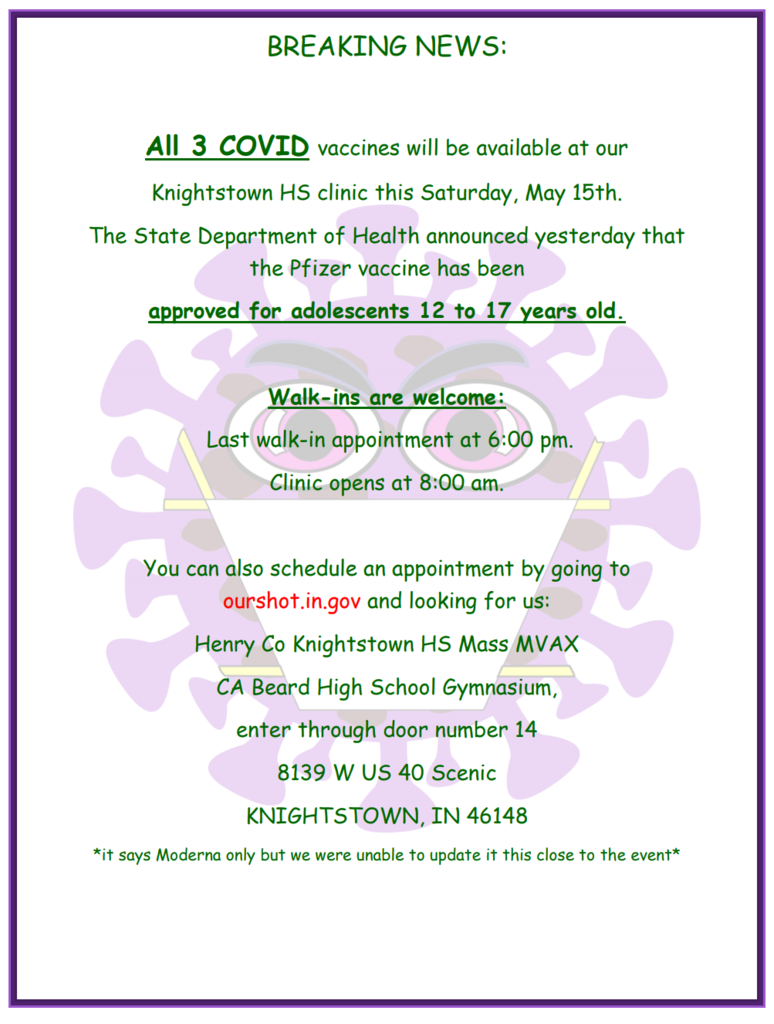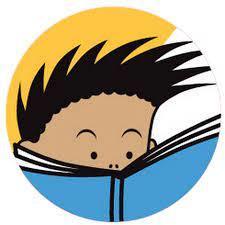 School Vaccine Clinic - May 15th!

Virtual Family STEM Month!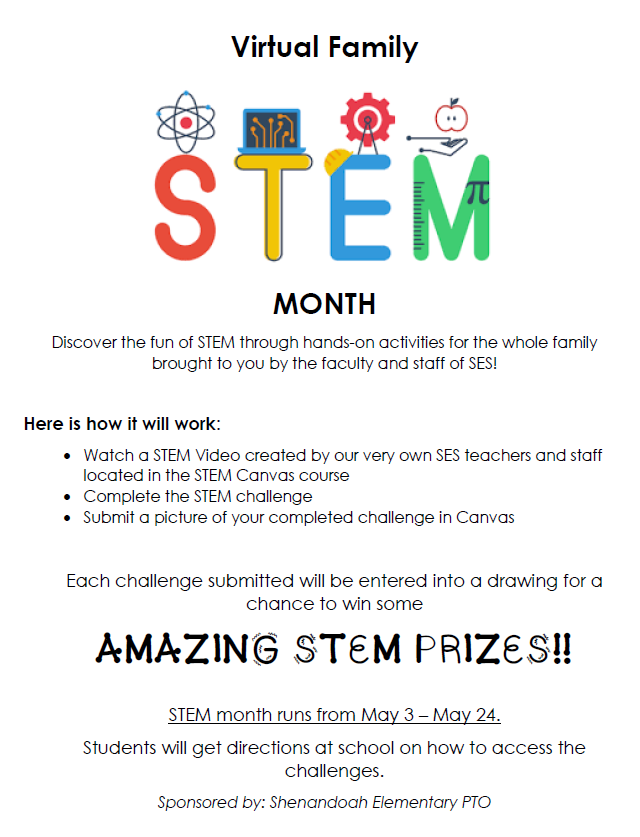 April 21, 2021 Dear Seniors, The Class of 2021's graduation will be held on Sunday, June 6, 2021 at 2:00 PM. Commencement will be held in the Shenandoah High School gymnasium. Due to the Covid-19 Pandemic we will be limiting the number of guests each Senior may have at graduation. Currently, we will be allowing each graduating Senior six(6) tickets for guests at commencement. Tickets will be distributed to you at commencement practice on Thursday, June 3, 2021. Additionally, we are asking that all guests sit in family pods, wear masks, and practice social distancing. Students will be seated on the floor of the gymnasium and we will be requiring all parents and guests to be seated in the east and west bleachers. We will have an area set aside for guests with disabilities that cannot otherwise utilize seating in the bleachers. We will continue to monitor Indiana and Henry County's Covid-19 status and all restrictions to determine if the total number of guests per student may be increased as we get closer to June 6, 2021. Should you have any questions regarding graduation, please contact Mrs. Gwinn, Mrs. Baker, or me. Respectfully, Gregory W. Allen, Principal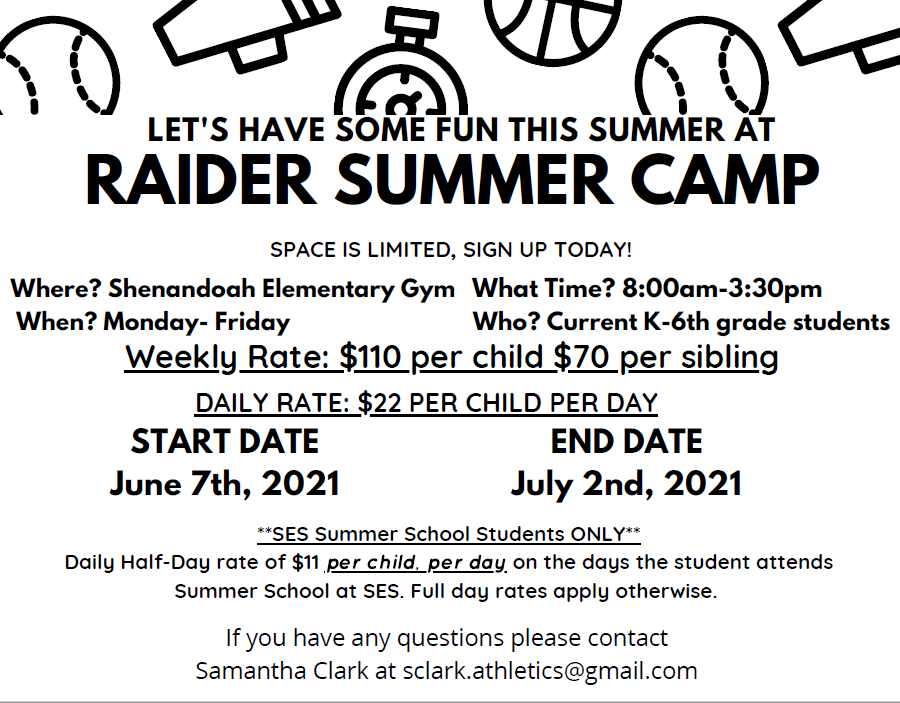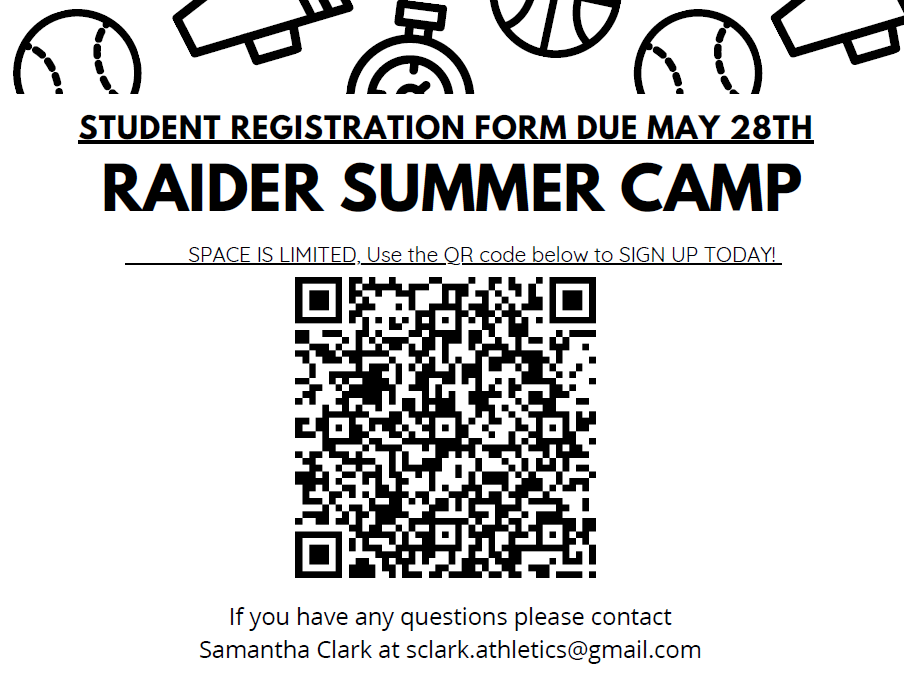 Mr. Gast will be hosting a Washington DC Trip meeting next Wednesday, March 17th at 6 PM in the SMS gym. If you are planning to go on this trip, then please plan on being in attendance.

Information from the Henry County Department of Health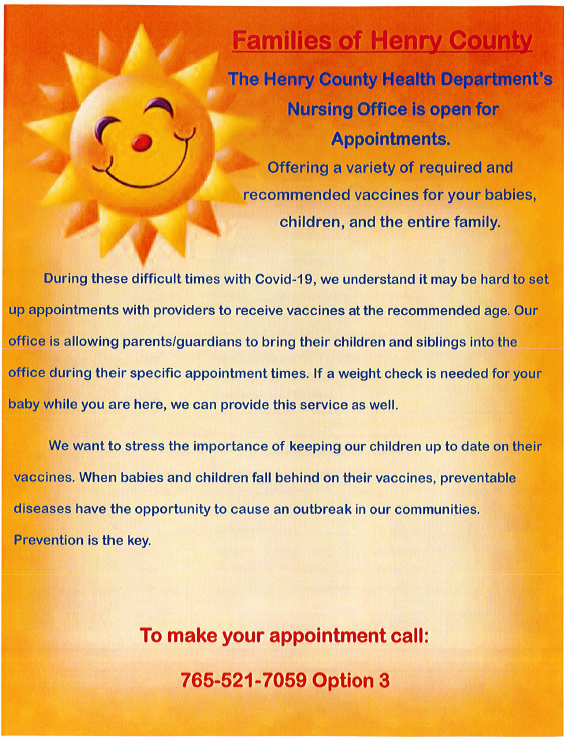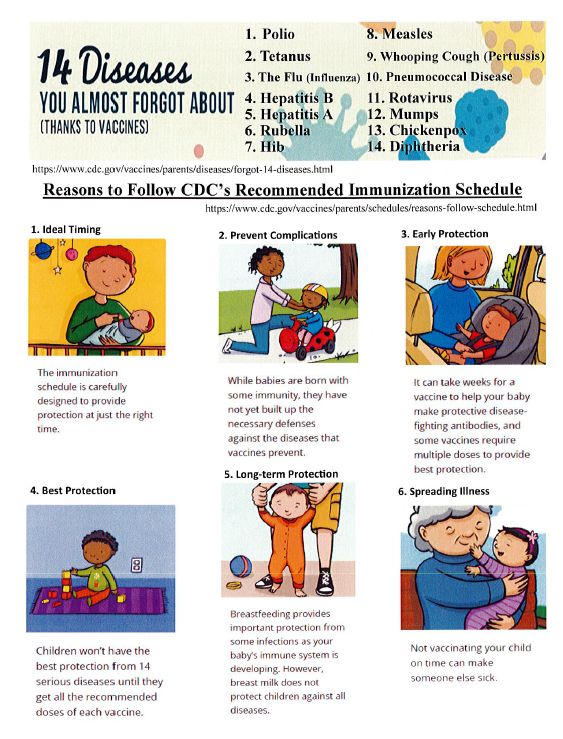 SHS Raider Pride Signs for Sale! Signs are $15ea or 2 for $25. All proceeds will be used to host a safe and fun post prom. Contact Deeann Conner or Lesley Patterson via PM if interested.